FUNERAL STATIONERY 

FUNERAL STATIONERY
With over 50 years experience in the printing industry we make sure your loved one gets the best.
At Tony Wolf & Son Quality Printers we can handle all your funeral stationery needs.  We print order of service booklets, bookmarks and return to thanks cards plus any other funeral printing you need. Planning a funeral is stressful and emotionally draining, during this sad time we want to make sure you get the best for your loved ones. Contact us today and let us help you through this difficult time.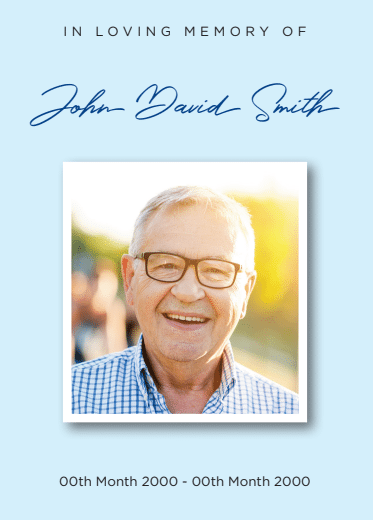 Order of service booklets
We can create your stationery for you, many services follow a theme and we can create a booklet to portray your loved one in the best way possible. Speak to your celebrant, preist, brother etc. and ask for a draft of the service, we will work with this to create a memorable book which will be cherished. We have a slesction of Hymns, prayers and readings here. Some faiths have reworded some of these so please be
sure to select the correct ones for your service and we will include it in your proof to approve.
Hints
Think about your loved one's favourite colour, flower, hobby, music, sport, special interests, special friends. Photos tell a lot about someone, choose photos which portray the person, eg a keen gardener can be in the garden by their favourite plant. The joker of the family in his/her element.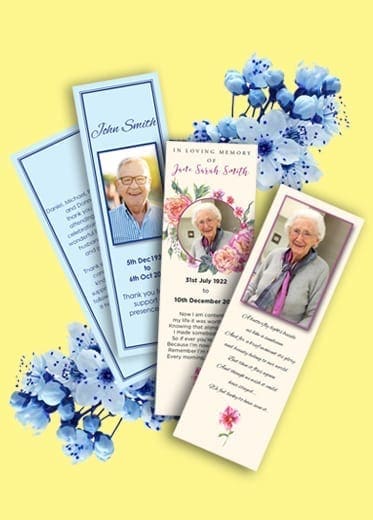 Bookmarks
Bookmarks are a wonderful keepsake and one that will be used often. We can produce religious types, colourful or simple & elegant. We can celloglaze the bookmarks to protect them so they can be cherished for a long time.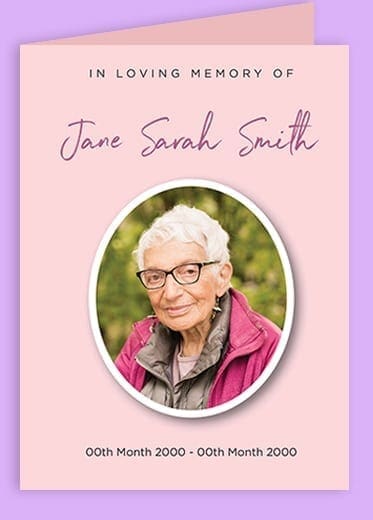 Return Thanks Cards
Remembered at this sad time is one of life's comforting moments, what better way to thank those who care for their kind thoughts than by sending a thank you card. These can incorporate a photo of your recently departed loved one, a religious message or anything you'd like to add as a cherished keepsake.
We can create these to match your order of service booklets or any theme you would like, religious, colourful or simple & elegant.