OUR

HISTORY

Our History
In 1961 Tony Wolf purchased his first printing press, a pedal platen for 275 pounds and ran it in a packing shed on Bob Vickery's land in Elderslie, Tony progressed to his In-law's garage with his peddle platen, he then built a shed in the back yard of the family home in 1964 where he worked full time with 2 Heidelberg Platens and a Linotype, along with galleys of hand set type. In 1969 Tony Wolf Printers moved to bigger premises in Graham Hill Road, Narellan, where the business flourished, with the addition of a Verticle Meihle, Diamond Guillotine, KORA, Linotype and a Ludlow, again along with the galleys of handset type.
Ian Wolf joined the business as an apprentice printing machinist in 1982, by 1984 we had 2 GTO52 presses a new Polar 92 guillotine and an IBM Compositor, which was effectively an upmarket Golf Ball typewriter (if you don't know what this is, ask your grandmother).
Along the way many typesetting systems came and went, today we run the Adobe Cloud Suite and the latest QuarkXPress as well as supporting the Microsoft Office suite of programmes.
In 2006 we bought a local printing company and ran Range Graphics and Tony Wolf & Son alongside each other, servicing large Credit Unions and local colleges. Fast forward to 2015 and we are now in our newer factory, complete with many digital and offset presses including a new Xerox Colorpress 800 machine and an Agfa Anapurna UV Inkjet machine.
We are very proud of our heritage and of our capabilities, we have wonderful staff who are not only knowledgeable but are also able to advise you on what it takes to make your job not only stand out but also suggest the most cost effective method of production.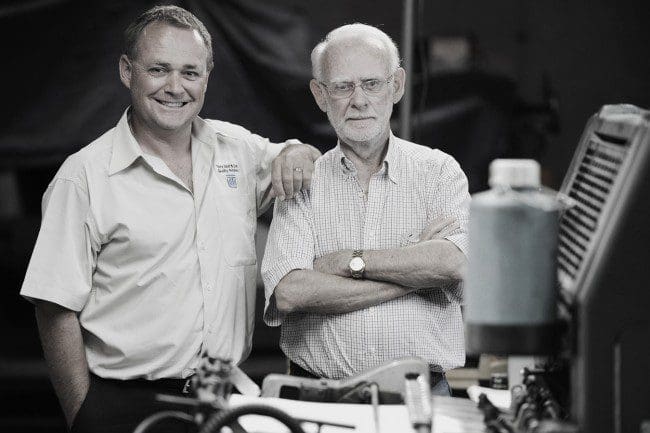 Ian Wolf (Managing Director) left with his father and founder. Tony Wolf